We offer several options of customised Sarah C artworks. This is a really neat gift for friends and family or simply an artwork that is specific for you and your family. Get your thinking caps on and brainstorm over a Sunday Roast or Secret Squirrel an idea with friends over coffee. There are lots of options available and we are always open to new ideas.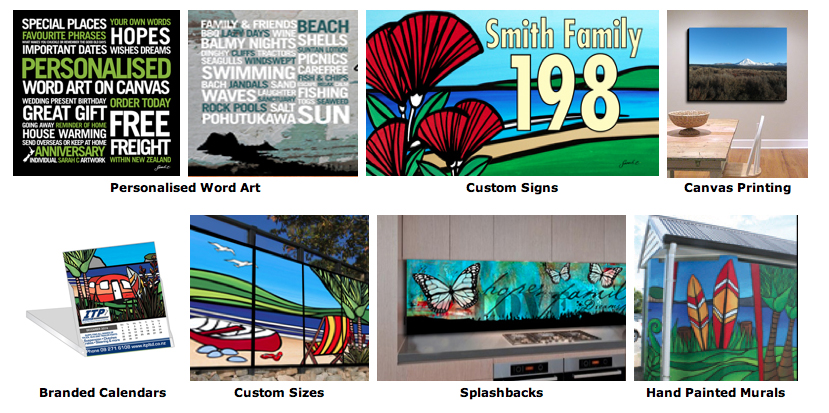 Custom Signs and House Numbers
We have several set designs and sizes to choose from or if you have suggestions we are open to your ideas. You may want to have your street number and family name included. Or your bach name! We can use existing Sarah C artwork to add colour and interest to your custom sign. The possibilities are endless. Contact us to discuss info@sarahcdesign.co.nz
Sarah C Personalised Word Art
Do you have a Special Place… Favourite Phrase… Important Date…? Have Sarah C design your very own personalised canvas.A fantastic gift idea. Wedding present, going away gift, reminder of home, house warming, or anniversary gift.
These are individualised artworks with a special Sarah C touch! The process is easy. Simply send us a list of your words and phrases. We suggest 20 – 45 words/phrases for the design to really captivate the viewers attention. Make sure you have EVERYTHING you want it to say on the list as we only create one initial mock-up per list of words. We also need a choice from you between the two styles we offer: Distressed Style or Modern Bus Blind Style. We have set standard sizes and colours. Upon receiving your initial order request we reply with a list of options for sizes and also the price for each. You can contact us at info@sarahcdesign.co.nz to ask about Personalised Word Art.
Modern Bus Blind Style – Canvas
This style is "borrowed" from bus or tram blinds from the early 1920's era before everything was digital. We offer standard sizes and colours, Red, Yellow, Blue and Green, on a Black background but we can work with you if there's special colour or size you want to use.
Personalised Word Art Canvas – Black background – white and "coloured" words (Excludes "distressed range" style).
You can contact us at info@sarahcdesign.co.nz to ask about Personalised Word Art.
10 x 10" $175  + $120 for your own words
20 x 20" $295 + $120 for your own words
30 x 30" $360 + $120 for your own words
24 x 36" $395 + $120 for your own words
20 x 60" $395 + $120 for your own words
10 x 30'' $270 + $120 for your own words
18 x 36"  $340 + $120 for your own words
12 x 48" $360 + $120 for your own words
Distressed Style – Canvas
These canvas pieces are truly textured and create a vintage retro. Variations occur in the underlying textures of the canvas and each one is unique. These pieces have been intentionally marred, faded and textured to convey an antique or used look. A graphic push pull effect is the result, so sometimes the text vanishes into the background.
10 x 10" $175  + $160 for your own words
20 x 20" $295 + $160 for your own words
30 x 30" $360 + $160 for your own words
24 x 36" $395 + $160 for your own words
20 x 60" $395 + $160 for your own words
10 x 30'' $370 + $160 for your own words
18 x 36"  $340 + $160 for your own words
12 x 48" $360 + $160 for your own words
Stuff you need to read…
Time frame: About one to two weeks from final sign off. If you can check the proof and approve it very quickly, then that speeds up the process. If you have a specific date you require the artwork for, ie Nana's Birthday, please notify us when you place your order. Then one to five weeks to make the canvas and have it ready to send or collect.
Changes to Your Initial Mock-up: We allow for a couple of changes to proofs throughout the design process.  Excessive changes and modifications will incur an extra fee – this is at our discretion and is charged at our standard hourly rate. We will let you know of any extra charges before proceeding. If a new size is requested after the order is taken an extra fee may be incurred as a new design may be required. Any cancellations of personalised artwork orders after the first proof can also incur a design fee. Please check your proof carefully. It is your responsibility to check & proof the artwork. To avoid any typos slipping through at our end we always copy and paste the text you send us via email. We proof all artwork to you for final sign off.
Colours: We have a really good idea of what colours reproduce well on the canvas, but we can also endevour match colours to your decor. Colours printed on the canvas can vary from what you see on your screen. We have tried to represent the colours the best we can on the website.
Payment: Payment is expected before the artwork is supplied.
Canvas Printing
Do you have your own image or design you would like printed on canvas? There are several options for finishing. Would you like it wrapped around a frame and ready to hang or do you want to roll it up in a tube? This is a great option if you are sending it overseas.
• We can print to any size or shape• We can print any image – as long as you own the rights and it is high resolution.• We can work with you to creatively manipulate your photo and add dazzle to create a spectacular piece of artwork.
Corrugated Iron Printing
Do you have your own photo you would like printed on Corrugated Iron? We can offer several sizes and options for hanging. We can print any image – as long as you own the rights and it is high resolution. Contact us at info@sarahcdesign.co.nz to ask us about sizes and prices.
Company Branded Calendars
Personalise a Sarah C Calendar with your company logo, contact details and company tag-line. Fantastic to use as Corporate Gifts or giveaways to customers and suppliers. Not only will they remember the message, but they also buy more from the advertisers who gave them. Promotional calendars are displayed prominently in the home and office for optimal viewing. Your contact information is always in close range, so you are making it easy for clients to reach you. Corporate & business calendars are the most cost effective and personal medium available to carry your message for the longest period of time. We believe that calendars featuring Sarah C artworks are absolutely your best branding product at the best value!
Custom Sized Artwork
Sometimes the sizes we offer on the website might not totally "fit" the area you want the artwork to hang. We can enlarge, crop of shrink pieces to hang comfortably in your space. Some limitations occur with some mediums but please contact us to learn more.
Splashbacks
Cooker Splashbacks & Up-stands provide protection for your cooking area and give your kitchen a professional finish. Splashbacks are also suitable in bathrooms and wet areas. We have a few examples and you can choose any image from Sarah C's extensive portfolio to make into a Splackback or Up-stand. We offer a standard range of sizes and designs but often every situation is different and sizes can vary. Please contact us to learn more about this service along with professional installation.
We also offer a range of set designs and three set sizes.
Mural Panels – GlossMural Panels are ideal for creating atmosphere and livening up ordinary and bland very large spaces where a smaller artwork would get "lost". Mural Panels can be used for interior or exterior applications. Mural Panels are made to any size using existing Sarah C artwork. The proportions of the artwork is a consideration and sometimes cropping can be required. They come as flat panels ready to be attached to your wall retaining, garage door or fence. Usually a few screws through the panel and into your surface works really well, for outdoors we suggest stainless screws. Mural Panels do not have a cedar frame on the back. Mural Panel possibilities are endless. The largest single image size we can produce is 1200 x 2400mm. But if your space is larger we can split the image into a triptych or diptych. You can contact us with your space dimensions and the title of the Sarah C image you want to use and we'll let you know the costs involved to produce and freight to you. Mural Panels are stunning panels of aluminum, finished in a highly glossed laminate. UV Protective "film" is applied to each piece but semi to full shade is still recommended.
"Sufers Hut with Pohutukawa" looks fantastic here split into three pieces to create a triptych. The customer was very happy with the result.  "Artwork hung, looks amazing, many thanks." Neil and Tracey – Auckland.
Each Gloss Mural Panel is 1200 x 840mm. The colours really "pop" contrasted with the natural brustic fencing. Splitting the image into three pieces has enabled us to fill the space more and create visual interest. We love the blue cushions, matching beautifully with the sea and sky in the artwork. Another option could be to accessorize with coloured pots or plants with similar coloured flowers or leaves.
Hand-painted Murals
Hand-painted wall murals provide a unique alternative to wallpaper or hanging wall art. Sarah C can paint on location inside or outside, cover the entire wall or just a small area and because they are drawn free-hand, any surface or awkward areas can be accommodated. Do you have spaces that could do with a splash of artwork to either detour graffiti or beautify a space? Corporate, business, private and public, indoors or outdoors are all considered.