Stuck for Corporate Gift Ideas? Sarah C Design make fabulous corporate gifts for discerning New Zealand buyers.  We offer the perfect gift for a valued staff member or visitor. There are many ideas to suit your budget. Some options and ideas are below but we are not limited to these pieces. If you would like a piece made for you exclusively we can work with you to develop something special.  Please browse all our categories and email us a list so that we can discuss these with you.  We can can also gift wrap and supply artwork in stylish Sarah C branded boxes. Here are a few ideas:
Branded Calendars - Desk Calendars - Art Blocks - Corrugated Iron - for example The Bach (As pictured above) - Gloss Panels - Personalised Word Art available on canvas or as an Artblock
Gifting a beautiful piece of Sarah C NZ Art is quickly catching on as a reward to an exceptional worker, to show appreciation to a valued client, or as a farewell gift to a co-worker.
Art, in itself, makes an excellent corporate gift as it enhances the image of the firm. It also works well as a gift for visiting foreign delegates, as well as a valuable investment. A well-chosen piece will only reflect on the aesthetic quality of the giver.
Choosing art over random items for corporate gifts has far more depth and value as they are preserved for years.
Corporate or Bulk Sarah C Gift Vouchers
Sarah C Design can supply Gift Vouchers for your corporate incentive, reward, loyalty, and promotional needs. You can use the Sarah C Vouchers as incentives or give them as gifts to your valued staff, suppliers and clients. For more information, please Email Us.
Sarah C Artwork for your Business
Sarah C Artwork in a board room, office or commercial space is a very popular option. Accountants, Offices, Health Professionals, Insurance Brokers, Mortgage Brokers, Hotels and Restaurants. Allow a Sarah C artwork to transport you or your visitors instantly to the beach and imagine it's a hot summer's day! Cicadas are chirping in their typical New Zealand song.
Sarah C Design Personalised Word Art in the office is a fantastic device to remind staff of your key goals and motivators within your company.
Passion - Black with Coloured Words
Personalised CD Case Calendar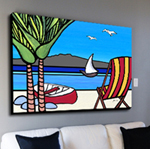 Rangitoto Dinghy and Deckchair
Sarah C Personalised Word Art for your Business
Branded with your company colours, logo, slogan, aims and goals. Fantastic as a leaving gift or a gift for loyal customers. Have Sarah C design your very own personalised canvas. These are individualised artworks with a special Sarah C touch! The process is easy. Simply send us a list of your words and phrases. We suggest 20 - 45 words/phrases for the design to really captivate the viewers attention. Make sure you have EVERYTHING you want it to say on the list as we only create one initial mockup per list of words. Also send us your company logo and corporate colours.
We also need a choice from you between the three styles we offer: Distressed Style, Modern Bus Blind Style or Wooden medium. We have set standard sizes and colours. Upon receiving your initial order request we reply with a list of options for sizes and also the price for each.
Timeframe: About two to three weeks from final sign off. If you can check the proof and approve it very quickly, then that speeds up the process. If you have a specific date you require the artwork for, ie Nana's Birthday, please notify us when you place your order.
Changes to Your Initial Mock-up: We allow for a couple of changes to proofs throughout the design process.  Excessive changes and modifications will incur an extra fee - this is at our discretion and is charged at our standard hourly rate. We will let you know of any extra charges before proceeding. If a new size is requested after the order is taken an extra fee may be incurred as a new design may be required. Any cancellations of personalised artwork orders after the first proof can also incur a design fee. Please check your proof carefully. It is your responsibility to check & proof the artwork. To avoid any typos slipping through at our end we always copy and paste the text you send us via email. We proof all artwork to you for final sign off.
Colours: Send as your corporate colours and we'll do our best to match them.
Payment: Payment is expected before the artwork is supplied.