The Sarah C Gallery in Mangawhai Heads is a small space showing Sarah C artworks. The Gallery is an old road-side-stall which used to sell produce to local people. We have tastefully converted the space and now show a variety of pieces in the range while retaining the integrity and rawness of the 1970's building.
The Gallery is open by appointment and for special occasions or by invitation events. To take part in these, it is best to be part of the Sarah C database so we can contact you via email.
Gallery open most days 10am to 4pm. Group tours are welome and there's plenty of off street parking in the orchard.
To arrange your visit, please contact us.
"This is Belle, our family pet. She's not too good at painting but she loves to meet customers visiting the Gallery. She would love a pat and cuddle when you arrive but won't be offended if you shoo her away! Belle is usually the first to meet you but don't worry if you arrive and no-ones around, we won't be far away." Sarah C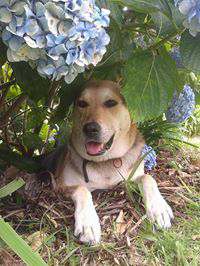 Update: August 2022, Our hearts are full. Welcome home Peggy. We hope to give you the best life. Falling in love again.
We also stock a changing collection of other artists' and designers' art and craft pieces, ceramic artworks and creative pieces that Sarah C has handpicked. These pieces can be purchased at the gallery or in our online shop.
About Mangawhai
Mangawhai is on the Twin Coast Discovery Highway just 90 minutes drive north of Auckland City or 50 minutes drive south of Whangarei. Located between Auckland and the Bay of Islands, Mangawhai is an ideal destination or stopover for travelers, families or couples wanting wanting a short romantic time away.
For the active the range of stunning walks in our region will have you coming back for more. Mangawhai also boasts one of the best golf courses in the north island and hosts many open tournaments. The Mangawhai Tennis Club is also available in the Mangawhai Village.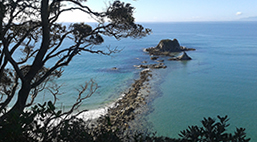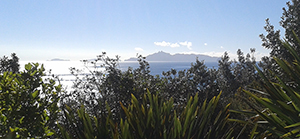 And of course Mangawhai is a beach lovers paradise. As well as a safe patrolled surf beach the estuary also provides further swimming and fun for the kids. Surfies also seem to gather in Mangawhai to catch the odd swell…
You'll find superb fishing and world class diving, from the Hen and Chicken Islands to the Mokohinau Islands. Recreational kayaking, rowing and fishing boats are popular in Mangawhai. Charter boats and hire are also available.
Cafes and accommodation are a plenty. Of particular note would have to be Harvest Blue Cafe, fabulous coffee and often a rotating series of Sarah C artworks.
Bennetts Chocolatier is a must visit. Skilled artisans can be viewed through the glass windows producing over 150 different chocolates that are sold fresh in the sumptuous showroom. Sandbar behind the Wood Street shops make a killer dessert. In the Mangawhai Village, french restaurant Frog and Kiwi offer a sumptuous dinner menu.
Looking for a place to stay in Mangawhai? An extended stay in Mangawhai is easily arranged to fit any budget, from the humble 1950's bach to elegant cottages and chalets. Here's a few of our favourites…
Mangawhai Lodge4 Heather StreetMangawhai HeadsNorthland 0505New Zealand.
Contact: Jeannette FordePhone: (64) 9 431 5311Email: info@seaviewlodge.co.nz

Mangawhai Heads Holiday Park
2 Mangawhai Heads RoadMangawhaiNorthland
Contact: Richard and NoelaPhone: +64 9 431 4675Email: stay@mangawhaiheadsholidaypark.co.nz